The United States is on many people's bucket list and everyone should go at least once in a lifetime, Last year I was able to arrange a seven day trip to the Western coast of California and visit an amazing city with great weather and beaches, San Diego.
My primary motivation for visiting San Diego was to check out Coronado Island, a wonderful and relaxing island for vacation and has one of the most iconic historical buildings, The Hotel del Coronado. It's been considered as one of the greatest beachfront resorts of all time and is listed as a Historical Landmark, which indeed raised my interests to stay there for a night in my itinerary.
When entering the United States, the visa application is a must and luckily my country has been considered as one of the eligible countries under the visa waiver program, ESTA  ( Electronic System for Travel Authorization ) is the online process that is a quick and easy process for applying for your entry to the United States if you are going on a vacation, visiting friends or relatives, as well as attending any forms of conferences or exhibitions. You are allowed to stay in the United States for a maximum of three months within a period of two years. Applying for ESTA is pretty simple, and it just takes a couple of minutes to finish the application form. Once you finish the form and make the payment, your ESTA will generally be approved within a few hours, if the information you provide is sufficient and without issues. For me, my ESTA was just approved in half an hour, and I was then ready to continue on with my flights, accommodation, and itinerary planning.
Just be sure to keep in mind these ESTA Requirements. Travel purposes must be for Vacation, Visiting friends and family, Visiting clients, or suppliers, or attending business meetings, negotiations, or conferences. Be sure your country is in the Visa Waiver Program. And don't forget to have your return or ongoing ticket already booked upon your arrival to the United States.
My first stop in San Diego was the La Jolla Beach, one of the nicest beaches along the coast of San Diego. I took the San Diego Trolley and then changed to a bus to reach my destination roughly about one or two hours or so. It's really a lovely and beautiful beach, and there were lots of lazy sea lions lying on the shores sunbathing, which was really entertaining to witness so many seals making noises and playing "dead" in the mid-day sun. I walked down the amazing Coast Walk Trail and watched the ocean and checked out some of those luxurious houses around it. I might even consider retiring in this place, that is if I ever retire. ;). It's so relaxing just to sit and take it all in.
From there I headed to another jewel of San Diego, Balboa Park, an outdoor recreation complex with numerous museums, restaurants, gardens, and theaters. I walked from San Diego Zoo all the way to Fleet Science Center, where I experienced an IMAX film in the IMAX Dome, this is the very first place to ever screen an IMAX film. I was just as thrilled and excited as the many children who also attended. After that, I spent a few minutes at the Botanical Building, where I took some  beautiful postcard-like photos. With the reflection of the building itself as well as the sky and water, it can never be more beautiful as this. I had lunch in The Prado, A Californian style restaurant in the area. They provided delicious food in a great outdoors setting which truly made it a place to remember.
The main spotlight of the trip. The visit to Coronado Island, and the Hotel del Coronado which has been featured in many films and frequented by many celebrities. Everything from movie stars, political figures, visiting Royalty, and Me) .Walking through the hallways viewing the historical photos on the wall, these historical moments brought such a sense of nostalgia, and peace to a time that was.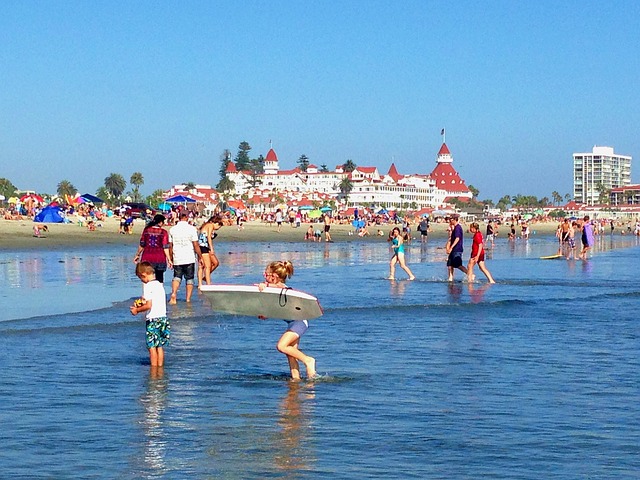 As the second-largest wooden building in the United States, I was amazed by the magnificence of the building itself, and the noises that came along with a historic wooden building signified the old but  sturdy spirits of it.
All to quickly my small tour of the west coast came to an end. Now that I am on to other destinations, I surely do miss the feel of southern California, and hope to be back again soon.