There are some cities around the world that have one thing in common and that is offering investors a friendly real estate investment environment.
Here we give you a list of 9 cities around the world that offer such profitable and growing opportunity.
1- Paris, France
According to 2016 JLL guide, Paris was announced as the ideal place to invest in real estate. The city of Paris is becoming more attractive to real estate investors than neighboring cities in France.
Being one of the most popular tourist destinations around the world with plenty of attractions makes Paris a very profitable market with high growth rates.
With low mortgage rates, low rental costs and high yields, Paris real estate market is a prosperous market for foreign investors looking to invest in a foreign real estate.
2-Manama, Bahrain
The non-oil sector in Bahrain and the real estate, in particular, has shown also great resilience over the years especially after the all the government efforts and intervention programs that encouraged the sector's growth.
There are exceptionally increased demands for high-end real estate products especially in Manama for the city promises a little bit of everything. With so much going on now in Manama's real estate scene, it is safe to say that the city's property sector offers top-notch real estate units with a good value for money.
3- The Algarve, Portugal
Portugal real estate market is a diverse market that offers many real estate options. The Algarve region, in particular, offers low real estate costs.
What makes the region even more appealing is the fact that has no restrictions when it comes to foreign ownership and that non-residents can apply for mortgages.
Known for its 300 days of sunshine, beautiful sandy beaches, reasonable prices, good flight connections, excellent cuisine and friendly local people; The Algarve region has seen an increasing number of real estate investors who realized the potential of the Portuguese real estate sector.
4- Cairo, Egypt
Cairo's real estate market has shown great resilience over the past years where international real estate investors are now responding to such stability and power the real estate sector proved to have.
The devaluation of the Egyptian currency has made Egypt's real estate market more attractive for Egyptians living abroad and overseas investors. And Cairo, in particular, is an extremely attractive destination for it's not only the capital of Egypt but also it is the home to all the major institutions, shopping malls, cinema complexes and nightlife.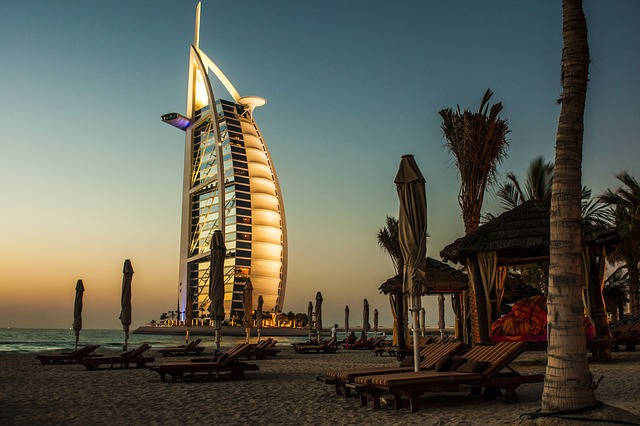 5- Dubai, United Arab Emirates
Dubai's real estate market is a thriving market and an ever-growing one. Preparing for Expo 2020, the city of Dubai is working in full swing to develop mega and world-class real estate projects that will accommodate the huge influx of visitors expected to come during that time.
That's not all as the city is also filled with plenty of affordable real estate options where a lot of real estate investors especially first-time buyers are now entering the market and enthused by the lower prices and encouraged by the attractive payment plans offered by some developers.
Find out more about Dubai Real Estate
6- Puerto Vallarta, Mexico
Puerto Vallarta's real estate scene offers real estate investors a little bit of everything.
It is worth mentioning that Puerto Vallarta's real estate market is recognized as one of the most vibrant and active markets that attract buyers from all corners of the globe, especially buyers from the US and Canada.
According to the Sold Market Analysis report by MLS Vallarta issued in 2017, real estate agents in the city have achieved more sales in 2016 when compared to previous years.
Investing in a vacation rental there is worth it for the city attracts plenty of visitors per year who come to check out its thriving art scene, world-class food, breathtaking mountains and mesmerizing ocean.
7- Istanbul, Turkey
Istanbul is another ideal place for real estate investment for the city is surrounded by the Sea of Marmara and the Black Sea, connected to both Europe and Asia.
The city is the home to many prestigious real estates that are available for sale or rent with extremely luring prices. According to predictions, Istanbul real estate will grow by 35 percent over 2017, while domestic transactions will increase by around 15 percent.
It is safe to say that the city of Istanbul is a very popular choice among international real estate investors and Middle Eastern investors in particular who are moving to Turkey for the country's growing economy is driving growth in all investment sectors.
8- Abruzzo, Italy
The Italian real estate market offers many great investment opportunities. The average Europe prices increased by around 5%.
According to Forbes, Abruzzo is on the list of the top 10 best places around the world to live in.
The real estate market there is somehow stable with cheap rentals. Ranking as the 7th most requested region of Italy; Abruzzo is definitely one of the best cities to invest in real estate market.
The area is perfect for visitors who are into winter sports and skiing. It is predicted that Abruzzo is on the verge of an international tourism boom.
9- Berlin, Germany
Germany's economic boom has lead to significant increase in the performance of the real estate sector. Berlin property market has experienced a record year in 2017.
The population growth in Berlin is what drives its real estate sector where reports indicate that an increase in the population of 18,400 to 3.69 million people in 2017, all of which lead to a dynamic development in the market.