Now that most of us are stuck at home, I am starting out a series of articles on 'How to make money online' These best paid surveys is just a small bonus part of our series. It does not entail to much work but it is a quick win, which most of us need when we are starting out, trying to make some cash online.
There are several surveys, opinion polls and other small tasks that offer rewards for your time, sometimes even in the form of cash. Think of these online surveys as just a simple errand that you do to acquire extra cash in your spare time.
Survey companies work with businesses and organizations to gain knowledge, insight, and find new ideas before bringing new products to the market. In such cases as these they hire companies to run surveys, do opinion polls, test products, and in turn these survey companies pay you for your time and effort, sometimes in the form of a reward card, or cash just for assisting these brands in improving their products.
Filling out surveys can be worth your time provided you sign up for the right survey sites and implement a few helpful tips. All you need is an internet connection and a computer or mobile device to get started. So let's get started.
Here are my Top Picks (click to jump to review)
Vindale Research (Top Pick – Earn up to $50 per Survey)

Vindale Research is an online market research company based out of New York. The company was founded in 2006. Since that time, Vindale Research has shelled out nearly $8 million to its subscribers. That's a lot of studies!
Vindale pays its subscribers to complete various surveys, that have been set up with their partner companies. When you complete one of these studies, Vindale gets paid, and they then share that commission with you.
For example, let's say an auto insurance company is looking for prospective customers that live in Nevada. If you complete a "Car Study" with Vindale and tell them that you own a car and live in Nevada, Vindale could then sell your information to that auto insurer for a fee. In turn, Vindale would then pay you a few bucks for completing the study. This is how most of these survey companies get paid.
Vindale Research is one of the highest paying survey companies out there. With surveys paying from $5 to $50, with a paid studies panel which shows you the rate and approximate time to complete each survey. This makes it our top pick.
Earn Cash for completing Surveys. Here is an example of the easy survey panel where you can see the average time needed to invest, as well as the payout.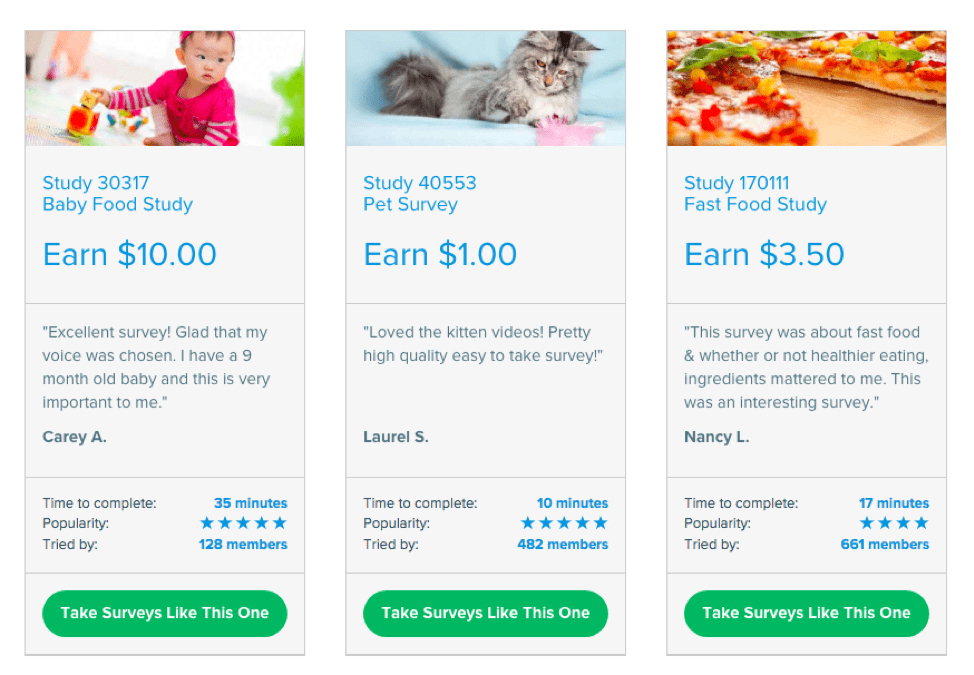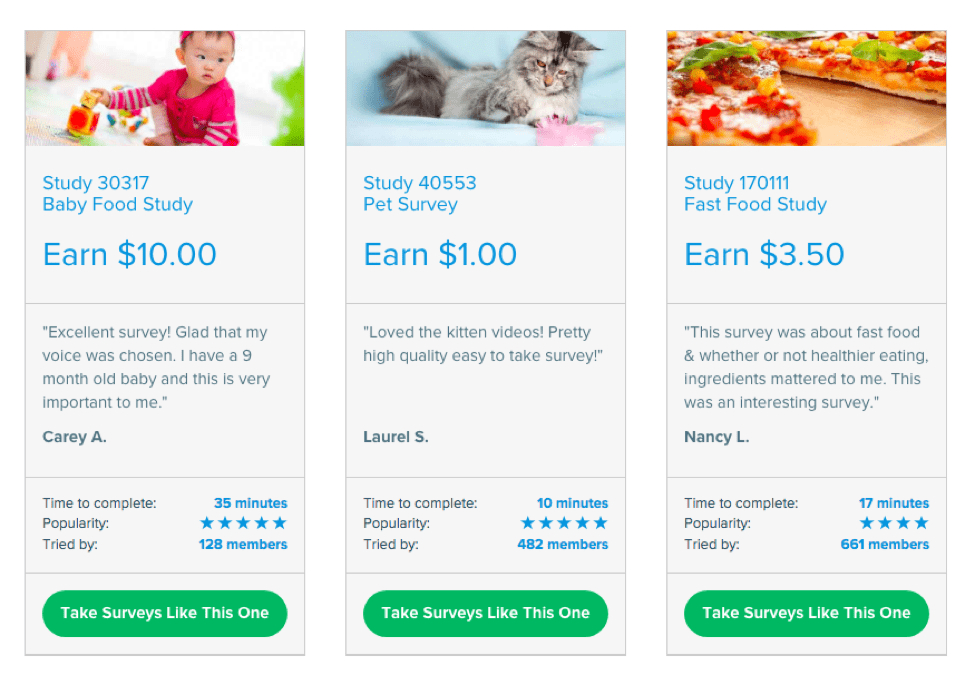 Vindale also has a Job Center that helps match you with job openings in your area, offering you some potential leads for work opportunities. if that is something that you are interested in.
Another way you can earn cash is with the Vindale research paid referral program. currently they are paying $5 per referral.
Vindale's Reward Codes program offers a new way to earn cash. Here's how it works.
The company posts reward codes across their various social media properties, including Facebook, Twitter, and their blog. If you see a Reward Code on one of these forums, all you have to do is copy and paste it into the Reward Code box in your account. You'll then automatically get cash credits posted to your account.
Review products and take simple online surveys
Make a difference by sharing your opinion
Receive up to $50 per survey completed
Choose to keep the products that you review
Get Paid via PayPal
Where it's available: United States
Age requirements: 18+ years old
Average earnings: Most Surveys pay between $5 and $50
Payment method: PayPal
Survey Taken (Surveys Pay Up To $40)
SurveyTaken Has been helping people make an extra income in the comfort of their own home since early 2018.
SurveyTaken believes as we do, that everyone should have a chance at gaining financial freedom. They way that they work is they connect you with market research partners who will pay cash for your opinion. The work at home partners that they connect you with will pay you money for the things you do for free. Such as watching movies, reading emails, browsing the web and more.
Click here to see the partners which you qualify for, and start earning money today.
The process is quite simple
Answer a few questions about yourself
Get matched with the highest paying surveys
Take surveys and get paid up to $40 per survey
Get Paid
Where it's available: United States
Age requirements: 18+ years old
Average earnings: Most Surveys pay between $5 and $15. Some surveys pay up to $40
Payment method: Varies based on research Partner
Minimum to cash out: Varies Based on Research Partner
Ipsos i-say (Solid well known Company)
The Ipsos Group is one of the largest market research companies in the world. The Ipsos Group is headquartered in Paris, France and was founded in 1975 by Didier Truchot. They have offices in 88 countries with over 16,000 employees and are publicly traded. They're legitimate, and a top earning survey site.
If you remember back to the most recent Presidential election, Ipsos was often cited along with Reuters (they have a partnership) whenever political surveys were mentioned. Even today, the approval and disapproval ratings are Reuters/Ipsos polls. Reuters comes up with the questions and methodology, Ipsos conducts the polling.
Paid surveys. This is by far the best way to earn money on this platform, what you will earn is incomparable to other sites. The amount you will earn is dependant upon the number of surveys that you qualify for in a day
Loyalty program. As a member of Ipsos you automatically qualify for the loyalty program. The more surveys you participate in the more bonuses you will receive. 5 surveys qualifies you for 25 points, 15 surveys qualifies you for 50 points, 200 surveys qualifies you for 600 points. Every point on this platform is worth $0.01.
Invite your friends. For every friend that joins Ipsos i-say survey you will receive 100 points, provided they live in your country. All you have to do is log into your account and send them an email invite.
Contests. As a member you also qualify to participate in a number of contests. This includes a welcome drawing that all new members are entered into. In this drawing every 4 months they choose 30 winners for a $100 prize. There is also a click draw where you have a chance to win 10,000 points.
Community. Ipsos i-say has an amazing community of like minded individuals. You are also able to post your own polls and respond to other users polls as well.
Click here to start Making money on Ipsos. Surveys pay between $0.45 and $2 , added together with other bonuses, such as inviting your friends and drawings, makes Ipsos one of our favorite options.
Where it's available: United States
Age requirements: 18+ years old
Average earnings: $0.45 – $2 per survey
Payment method: PayPal cash in all countries, or gift cards and prepaid visa card
Minimum to cash out: $5
Survey Junkie (Up To $150 per Task)

Survey Junkie is a top performer in the survey industry, having been around since 2011, with a loyal member base of over 10 million.
Survey Junkie is best know for its simple easy to fill out paid surveys. The system works by giving you points for taking surveys. Every point is equal to 1 cent. It takes a minimum of 1,000 points (equal to $10) to receive your payout, and you are able to receive your payout in cash via PayPal or with gift cards if you choose.
Survey Junkie also offers the opportunity to earn money testing products, as well as participation in focus groups either in person or via phone surveys. These special opportunities pay between $5 and $150 per task.
You will be making money right as soon as you sign up and complete your profile, and start on your first survey. This is all possible with in the first 5 minutes of signing up. The surveys are easy to complete, and such a relief it is to work with an honest company that does not require you to sign up , or buy anything to complete the surveys.
Where it's available: United States
Age requirements: 13+ years old
Average earnings: $0.50 – $3 per survey
Payment method: PayPal cash in all countries, or gift cards and direct bank transfers in the United States
Minimum to cash out: $10
InboxDollars ($5 sign up bonus)

Earn cash and get paid for your everyday online activities with InboxDollars! Ways that you can earn money with InboxDollars include playing games, watching video ads,as well as shopping online at stores such as Target, Walmart, and eBay.
Download InboxDollars today for free and start earning extra cash immediately. Get your $5 bonus by signing up here: InboxDollars for Android or InboxDollars for IOS or InboxDollars for Desktop.
InboxDollars is a solid reliable company that has partnered with some of the most trusted brands in retail, technology, and Market Research. Having been in business Since 2000, with over $57 Million in cash rewards having been paid out to its members.
With InboxDollars It's easy to sign up and get started right away, and now you even get a $5 bonus once you activate your account. You'll then be led to answer a few simple questions about your income, race, education, and other demographic information. etc. This initial screening helps to match you with relevant paid surveys.
Get paid for:
Taking surveys
Reading emails
Completing offers
Playing games
Shopping online
Where it's available: United States
Age requirements: 18+ years old
Average earnings: $0.50 – $5.00 per survey and up to $10 and $20 or more for people in certain demographics
Payment method: Gift cards, prepaid Visa card, or a check in the mail
Minimum to cash out: $30
Once you reach $30 in your account, you'll be able to cash out with a check or gift card. The more activities you do, the quicker you get paid!
Pinecone Research
Pinecone Research has been in business for over 21 years, and is owned by the Nielsen Company, which is probably the most well known research company in the industry. The Nielsen Company holds an A+ rating with the Better Business Bureau. This research model is an elite service and the company limits its members to based on demographics. Apply here to see if you qualify.
Pinecone Research also works on a point to cash system. Each survey pays 300 pts. ($3). Surveys only take a few minutes, according to the company. As well as taking surveys, Pinecone research also pays you to test new products. You will be paid $3-$5 for completing a short report on each product. In many cases you may be able to keep the product upon study completion.
Where it's available: United States, United Kingdom, Canada, and Germany
Age requirements: 18+ years old
Average earnings: $3 per survey, and more for product reviews
Payment method: A check in the mail, PayPal, or gift cards
Minimum to cash out: $1
Survey Rewardz
SurveyRewardz is a straight forward easy to use site. Once you sign up and become a member, you will be shown a survey that you are approved for, estimated time to complete the survey along with the payout amount.
SurveyRewardz has a good amount of surveys, and if you do not qualify for one, then they will generally find you one that you will qualify for.
Where it's available: United States
Age requirements: 18+ years old
Average earnings: $1 and up
Payment method: A check in the mail, PayPal, Virtual Visa, or gift cards
Minimum to cash out: $1
Conclusion
Whether you are strapped for cash or just have some extra time on your hands, these are the best paid survey sites. Go ahead and check out these surveys. I would suggest that you sign up for all of them, as offers change regularly, and some of the better sites, close their doors often.
  Use your main Email so that you do not miss out on any of the opportunities and surveys that come your way. Be sure after signing up, to check your email and verify by clicking on the link that they send to you after applying. This will assure that you receive all of their future offers and emails.
==========================================================================
Disclosure: Please note that some of the links above are affiliate links, and at no additional cost to you, I will earn a commission if you decide to sign up after clicking through the link. Please understand that I have experience with these companies, and I recommend them because they are helpful and useful, not because of the small commissions I make if you decide to sign up through my links. Please do not sign up with any of these companies unless you feel that they will help you to achieve your goals.