After spending a nice but relatively cold summer in Northern Europe, I jumped on a plane and headed south, as I typically do this time of year.
Thailand is becoming quite the spot for tourist destinations these days, Every time when I return there seems to be more and more foreigners. Many companies and tours are starting to invest in taking people in Thailand, not because of its many destinations but because it offers one the thrill that a traveler would want when they get to travel to various destinations. Or you could do like me and come here alone without the help of a tour agency. This is my favored way of travel because you get to feel the true experience of the country, without the perception of the agency that tends to follow the crowd. Although they do have lots and lots of options to choose from depending with the hobbies and the like's that you may have, but from my opinion that is for the lazy traveler. When I hit the road I am looking for an adventure,, I new story for the future grand-kids, after a while of doing this it tends to get in your blood, this great need to feel alive to feel Awe…
I just recently read this quote on the internet "You have not really lived until you have rode on an elephant in Chaing Mai city." This is quite funny, as I have spent a lot of time in Chiang mai over the years, and have only seen one elephant in the city, and he was pretty much still a baby, not to mention that it is extremely frowned upon by both the locals and the police. So if you also happened to have read that quote, rest assured it is not going to happen.  However if you would like to take a ride on an elephant there are plenty of great locations throughout the country. One of my favorites is just about 25km to the north of Chiang mai. You can rent a motorbike or hire a Red song tao to take you there. It is an old village which has been turned into an elephant camp up in the mountains, on the Samong Loop ( A beautiful drive around the main mountain in chiang mai "doi Suttep"). This is one of the best elephant camps and is really quite reasonable,, If I recall correctly, the last time I was there it was about 200 Baht (5 euro) to spend the afternoon in the camp. If you would like to ride an elephant that would cost extra. But it is a great way to spend an afternoon either by yourself or with a loved one.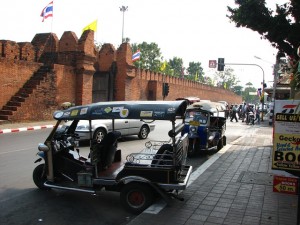 Another great thing I love about Chiang Mai is if you really like to cook, there are several cooking classes to try, and later you can follow up with all the great Thai recipes that are available on the internet.  The Thai's cuisine is quite diverse incorporating foods from all over Asia especially China.
Another great thing for the adventurous is grab a motorbike, and head up into the mountains to see some of the indigenous people who reside there. No need to be afraid, these are some of the most lovely people I have ever met in my life. Always loving, always going out of there way to make you feel at home.. "but I am shy how do you introduce yourself" you may ask.. No need to worry about that,, they will usually come right up to you and try to communicate. Being that most have a very little command of English, the opener will usually be something like " Farang , Farang,.. Whiskey?" ( translated foreigner,, Foreigner,, would you like some whiskey.) Go ahead and except there offer and have an amazing local experience.. don't worry to much about getting drunk,, In Thailand whiskey is served with a lot of soda water,, more like what we may call a lite spritzer..
There are a lot of other things to do while one is in Thailand as well: Try a Thai's massage. Bangkok is full of massage parlors and they are easily accessible. They are considered by some to be really rejuvenating. Visit the floating market. I was wowed by all of the beautiful colors. The water filled with boats relatively tightly packed next to each other with their owners selling different wares. Try eating from the food vendors down the street. The food is delicious and you wont have to worry about all those diseases the guides talked about. I have been coming for years and have never got sick from the local food.
So leave your worries behind and come enjoy one of the freest countries in the world..