I landed at Perugia International Airport this week a little bit confused. The airport, named after St. Francis of Assissi, is more officially called "Aeroporto Internazionale dell'Umbria – Perugia San Francesco d'Assisi." I'm not an expert historian, but it was my interest in the history of St. Francis that led me to rent a house in Umbria in the first place, and I'm not sure what this most famous penitent friar would have thought about having an international airport dedicated to him. If one could have stopped him during the months he spent begging for stones to restore a ruined church in the mountains outside Assissi and asked him how he felt about it, Francis of Assissi's response might have jeopardized his eventual canonization. I don't speak Italian, so I couldn't discuss it with the cab driver. Instead, I pointed at Assissi on a map and contented myself with traveling in a dry taxi instead of waving a wet map at disinterested Italians trying to find the train station like my traveling companions from the plane.

Even in the rain, Umbria is a beautiful place – maybe even more so for it. The flagstone streets of Perugia have retained their classical character despite its rapid modernization. The old and the new blend seamlessly, like Paris, the neon lights and signs seem to have sprung from the thousand year old stone walls without leaving so much as a blemish on the marble. Once we were out of Perugia, the fields opened up on either side of us in miles of checkerboard green and yellow held down by the fog. The cab sped down the two-lane road a little faster than I cared for given the view, but my lack of Italian came back to bite me again and I resigned myself to watching the blur of tall grass and pastoral utopia fly by the Peugeot's passenger side window.
As we approached Assissi, I was struck by how high up the city actually is – I felt at once very fortunate to be making the trip by car rather than by foot, and when the rattling of stone streets meeting Italian rubber suddenly stopped, I was almost disappointed to have to leave my luxurious chariot and walk once more among the peasants. I tipped my driver generously, and as he sped away, his passenger side mirror knocked over a garbage can in the impossibly-narrow lane, scaring a cat who moved as if to protest but instead meowed futilely and sauntered down the alley with a look over its shoulder me as if to say, "I'd give him what for, but I don't speak Italian either."
I was dumbstruck when I turned around and got a proper view of the place. I'd been toying with the idea of renting a flat, but I decided at the last moment that I wanted a little more privacy to write and unwind during my little pilgrimage, and opted for a much larger luxury retreat to stay at. There were a handful of selections at differing distances from the hill city itself, but I chose to stay right on the periphery rather than commuting in – one doesn't get an opportunity to visit a place like this every day, and I wanted to be close enough to doddle around at my leisure. I may have overdone it slightly, but I certainly enjoyed the views, even more so than when I was in Sicily.
The house was an old, stone-walled affair with several separate structures built into one – it featured a rookery, of all things, and was built in a charmingly complicated layout with outdoor stairs and what we'd call mother-in-law suites back home connected by a central, walled-in compound. Outside the walls, a stone path led to a decent-sized outdoor swimming pool, and although I felt a little silly visiting the home of St. Francis of Assissi and staying in a palatial house with only myself for company, I resolved to make the best of my good fortune and enjoyed a hot meal in the rookery watching the rainfall in the idyllic hills around the city.
The next day I rose early to beat the rush, completely missing the memo about how there are no rushes in Umbria, and walked up and down steep, slick stone streets towards the Basilica under cloudy skies. I came across the Basilica of St. Clare first (that's Santa Chiara in Italian!). It never occurred to me that St. Clare would have her own Basilica, and I thought about why that was while the cat from the night before walked approached me from behind and sat down beside where I stood facing the Basilica. I spent nearly an hour inside, trying to capture the soot on every vaulted arch and the smell of every ancient wooden chair and pew and selfishly lock it away in my memory for my sole perusal at a later date. I emerged from between the heavy doors into a beautiful sunny morning, and though the streets were far from empty the time I spent inside hadn't brought a throng of tourists out of their beds to fill the narrow sidewalks. In fact, it seemed like I was the only tourist there – young men, women and families spoke to each other in rapid-fire Italian as they held hands and happily trudged up the city's endless hills, and I followed one such group from the doors of Santa Chiara to the famed Basilicia of St. Francis.
I'm not sure what I expected, but I left in a daze. The upper basilica, with its artwork splayed dauntingly across vaulted stone far above my head, made me feel very small, and the paintings and tapestries in the lower Basilica were a feast for the eyes. In the crypt, I saw dense, endless frescoes in impossibly-ornate halls, and an Italian security guard periodically reminded the few of us down there of the appropriate decorum by hissing a universally-understood shh! into a microphone at regular intervals. Though I was slightly overwhelmed by the place, I wasn't quite finished, and I made an important discovery that I will take home with me and cherish forever.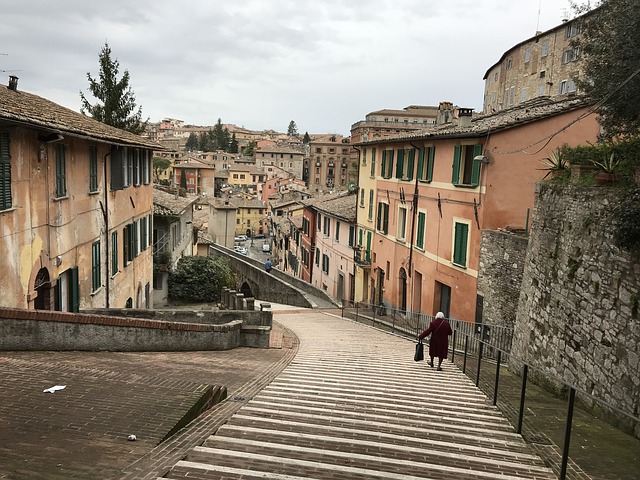 It is fitting that, despite the awe-inspiring frescoes and beautiful stonework of the Basilica, its most impressive angles are from outside. The front courtyard, a mix of healthy green grass and artfully laid stones spelling "PAX" in tall letters, is a place for rest and recuperation for those of us not accustomed to such architectural marvels. But the view from down below – lured by a rare downward incline in the streets, I followed the road all the way out of town and into the field below – is breathtaking. I sat on the grass for some time taking it all in, all the while thinking to myself, "this is the only angle St. Francis himself would have beheld it from."