It's every father's desire to share in their hobbies with their sons and I felt that my son would appreciate an excursion into the great outdoors with his father.
I researched some places online and came across a few, but one in particular caught my attention. I settled on Perran Springs Holiday Park in Cornwall. Their variety of options and proximity to other attractions in the Cornwall area was a big plus.
Besides having a wide array
of options from camping, touring, caravan and motor home options in their facility, which were all very attractive, I was really drawn in by the fishing lakes. I have always loved fishing. It's is one of the things that invoke pleasant memories with my Dad growing up and I wanted to continue this tradition with my son.
Well, the decision was made, we were going camping in Cornwall. Their website also provided some very useful information about the holiday park. To cut a long story short, we went to Perran Springs and opted for the camping option. One of the things that caught my eye when we arrived is just how scenic it is.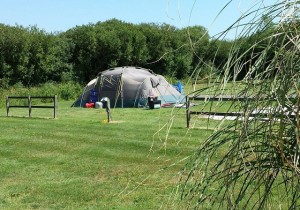 Located in the countryside, you fall in love the moment you arrive. There is a camping site and though many families had already arrived and many tents where already pitched, it was still very spacious and I also appreciated the degree of privacy they offered in a camping site environment.
We arrived in the middle of the day and quickly pitched our tent. I wanted to make use of the rest of the afternoon to take my son on his first fishing trip. We took a bit of time to look around the place just to see what else was on offer there, and what we would take advantage of during our next couple of days.
This was a trip for just the
boys but I saw some things that my wife would appreciate the next time we would come. Unfortunately, my wife is not the outdoors type and appreciates the comforts of modern living when she is on holiday. The holiday park has a host of options even for those who are not too keen on camping. There are caravans, Euro tents, which are virtually a home with bedrooms, kitchens and other comforts. The camp site also comes with electricity points and shower facilities.
There was also a well stocked shop and pamphlets which explained, in detail, all that was on offer and some local attractions. I really appreciated how they cater even for pets. Thy also allow pets provided that they are on a leash at all times.
It took Andy and I about 30 minutes to look around and it was evident from the onset that these were going to be a great couple of days. We finally got our fishing gear and went to Mayfly Fishing Lake to catch that night's supper. We visited one of the four lakes on each of the days we were there and had an amazing time.
On your next camping trip I would recommend checking out Perran Springs, here are their details:
Perran Springs Holiday Park
Goonhavern
Truro
Cornwall
UK
TR4 9QG
Tel. 01872 540568
As for us, we have decided to make this an annual father and son trip 🙂